The Importance of Reputation Management for Business
Do you have questions about the importance of online reputation management? If so, you're not alone.
Most business owners have heard of online reputation management, but they don't have a thorough understanding of exactly what it means, how it's handled, or how it should be maintained.
The term reputation management is broad and complex.
Most business owners understand that, in general, it's better to have a good reputation than a poor reputation.
However, because the online world is so extensive and multi-faceted, managing a reputation online can be a difficult task that requires constant monitoring and proactive attention at all times.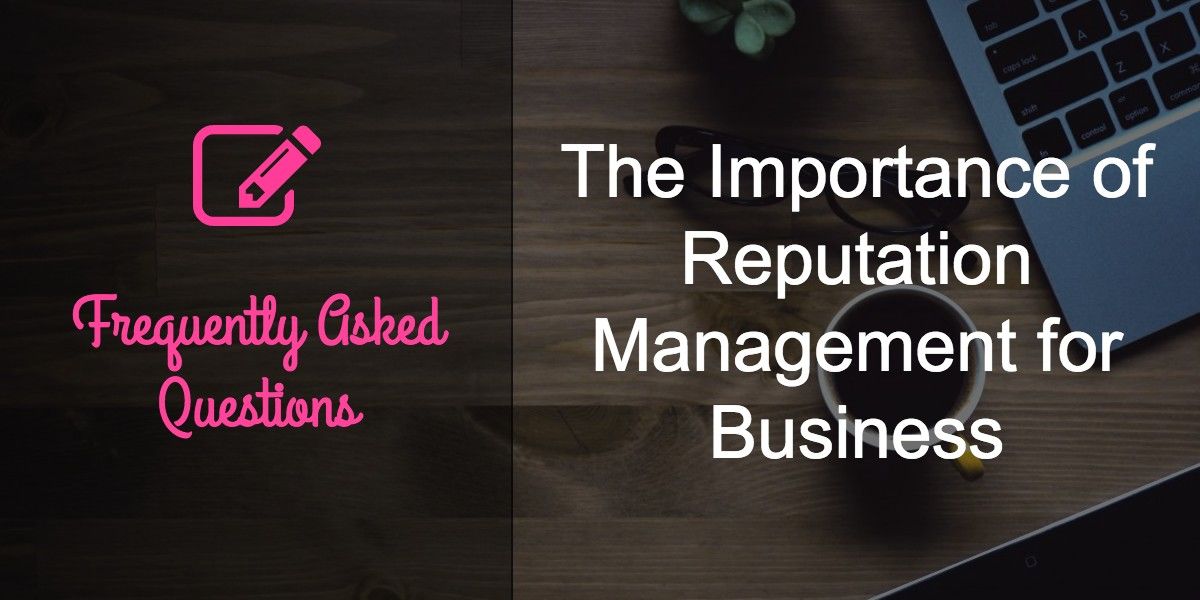 Here are the most frequently asked questions that business owners ask about the importance of online reputation management:
Q: What exactly is online reputation management?
A: Online reputation management is very similar to real-life reputation management — except it takes place online. Reputation management is the act of realizing and understanding how and what others feel, think, and say about your business via an online venue – and attempting to improve the public's opinion of your business by learning from the reviews and delivering better service.
An online reputation is best managed with clearly defined and well-thought-out strategy. This includes reputation monitoring, social media monitoring, responding to online reviews, encouraging customers to leave reviews, internal feedback systems, good review promotion, and in some cases, reputation repair.
Q: What is the difference between an effective and a non-effective reputation management campaign?
A: An effective reputation management campaign is a multi-faceted approach that can help influence the public's image of your business in a positive way. A non-effective reputation management campaign is one without a strategy and does little or nothing to alter the public's opinion of your business in a positive manner.
Q: Can a negative online reputation really affect my business in a significant way?
A: Yes! A negative online reputation can be destructive to any business – no matter the industry. According to an article published by Moz.com, New Study: Data Reveals 67% of Consumers are Influenced by Online Reviews, "The results revealed that online reviews impact 67.7% of respondents' purchasing decisions. More than half the respondents (54.7%) admitted that online reviews are fairly, very, or absolutely an important part of their decision-making process."
Q: Can social media play a role in my business's online reputation?
A: Yes. Social media is one of the most important and relevant factors in a reputation management campaign. Social media allows a business to communicate with customers and the general public, make announcements, and provide information that helps improve and/or enhance credibility.
Social media can also be used to help clarify or rectify disputes or to share positive information with others. Activity on social media also shows the pubic that your business is concerned about its reputation and wants to interact with the outside world.
Q: What do customers look for online to determine the reputation of a business?
A: A large majority of people look for online reviews before making purchasing decisions. According to an article published on Business2Commmunity.com, The Impact of Online Reviews on Customers' Buying Decisions, the latest statistics and trends show that 90% of consumers read online reviews and 88% of them trust the online reviews as much as they do personal recommendations.
In other words, more people read reviews as part of their pre-purchase research before buying a product or service. This means it is more important than ever for a business to monitor online reviews and respond to questions, concerns, and any/all negative comments in a timely manner.
Q: Can I do anything about a poor online review that is affecting my business's reputation?
A: There are several ways to respond to a negative online review that may be affecting the reputation of your business. Sometimes you may even be able to get the reviewer to change or remove the review if you rectify the issue. If you are unsure about what to do, a local reputation management company should be consulted for advice and guidance.
The most important thing to remember is that a poor online review should never be ignored. Ignoring the problem will absolutely not make it go away. Effective damage control must be implemented as soon as a poor review is discovered. The manner in which a negative review is handled can make a significant impact on your business's online reputation.
Q: My business's online reputation has been poor for years… is there any way to turn it around or is it too late?
A: It is never too late to attempt to turn around a poor online reputation. If you think your business has a negative online reputation, the time to start working to turn your reputation around is NOW. It can be a time-consuming process to change the public's opinion of your business. In other words, it's not something that can take place in just a few days.
The first question you have to ask is, "Why does my business have a bad reputation?" Many business owners are in denial. They don't want to believe that the negative reviewers are right. The first place to start is to look in the mirror. How is the culture of the workplace? Are employees happy? Is there a toxic employee creating stress among the staff or even with customers?
Because there are several components involved in a successful reputation management campaign, it's important to work on all aspects at the same time. A local reputation management company can help a business construct a reputation management strategy that is uniquely designed for a specific reputation goal.
Q: Is it possible for customers to trust a business that has a poor reputation?
A: As stated earlier, a large majority of people read online reviews and use the information they find in online reviews to make buying decisions. While it might be technically possible for customers to trust a business with a poor online reputation, it's not as likely for prospective customers to trust a business with a poor reputation as it is for them to have confidence in one with a highly positive reputation.
Q: How does my online reputation affect the level of trust potential customers have in my business?
A: A trustworthy and reliable business is one that will earn the respect and loyalty of current and prospective customers. It is more difficult for a business with numerous negative online reviews to gain trust. Therefore, it's important for any and all businesses to work on building a positive online reputation – which can result in a higher level of public trust.
Q: Can a good vs. poor online reputation make or break a business?
A: If there is one thing that is certain, it's that a good online reputation can absolutely help a business and a poor online reputation can absolutely hurt a business. Studies support this, including a Harvard Business School study which showed that a one star improvement on Yelp yielded a 5-9% increase in revenues. A good reputation should be the goal of any business that wants to survive and thrive in today's virtual world – a world in which a positive online reputation is incredibly valuable.