Don't be in the Dark About What Your Customers Are Saying About Your Business
Think back to your teenage years. When you were in middle school, you desperately wanted to know what everyone else was saying about you at any given moment.
Why? Because it mattered.
When you were a teenager, your reputation was incredibly important. When others didn't like what you were wearing or what you were saying, they whispered about you to their friends.
And as a teenager, your goal was probably to find out exactly what was being said about you – and exactly who was saying it. You wanted to know everything!
Fast forward to the current day…
Today, you are long past your teenage era, and you probably haven't worried for several years about what other people think or say about you behind closed doors.
You've outgrown the desire to be "in-the-know" about every little tidbit of gossip that may be floating around about you. For most adults, it's a relief to give up the same concerns about your reputation as you had as a teenager.
But wait! Before you permanently say goodbye to concerns about your reputation, answer this question: "Are you a business owner?"
If you own a business, your reputation absolutely does matter. What is being said about your business in public is incredibly important. It's essential to be aware of both positive and negative information that is being communicated.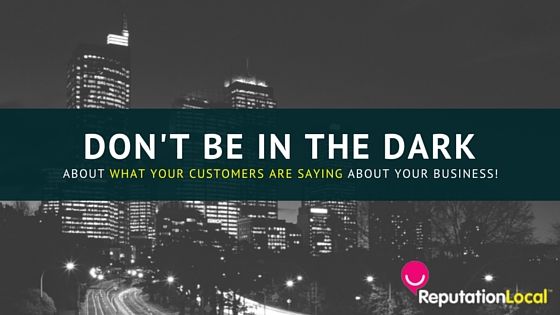 Learn From Your Customers' Comments
If you own a business, you can learn a great deal from what your customers and the general public say about your establishment.
Most of the chatter about your business probably occurs online via social media, including forums and comments on review sites. But some conversation about your business still occurs the old fashioned way – through word of mouth.
All business owners hope that a majority of the conversations and comments customers make about their business are positive and helpful, but there's always a chance that conversations and comments are not complimentary.
If you find that the conversations and comments are not positive, it it's important to act on the information and try to turn it around.
Don't Remain in the Dark
It's never advisable to purposely ignore or shy away from what your customers are saying about your business.
The more you know, the better off you will be. Luckily, it's relatively simple to stay informed.
Here are some simple tactics business owners can use stay up to date on all the chatter:
Keep your social media accounts active, but don't just post without intending to read the comments.
It's hard to find anyone who will dispute the importance of maintaining a social media campaign. But an effective campaign should involve commitment to interact with followers – and should not just consist of posts that do not encourage a conversation. Make sure to stay aware of any and all comments people make on your social media accounts.
Google your business.
If you want to know what's being said about you business, simply Google your business name on a regular basis. This is an excellent way to stay in the know. If you do not regularly Google your business name, you may never find out if your business is mentioned in a news story, in a feature article, or in a blog.
If you are a Reputation Local client, we give you access to your own custom dashboard that not only shows all of your star ratings and review, but also mentions of your business in online news, blogs, media and social media sites.
Set up alerts so you are aware when your business is mentioned online.
A Google Alert is a quick and easy way to know when your business is mentioned online. When you set up a Google Alert, you can enter the name of nickname of your business. When it's mentioned, you will receive an alert letting you know when and where the mention occurred.
Again, Reputation Local clients have an easier tool within your Business Center dashboard.
Ask for feedback.
If you want to know how your customers and/or the public feels about your company, or if you want their opinion on any related matter, just ask for it.
Many businesses choose to ask for feedback via a simple online survey. In exchange for completing the survey, many businesses offer a discount or a coupon that can be used at a later date. An online survey can be anonymous so that it allows participants to provide their opinion without being recognized. This can lead to more honest answers to questions related to your business.
Using the Reputation Local feedback tool, is a great way to get feedback from all customers. Plus it automatically asks happy customers to post a public review at one of the major online review sites, such as Yelp or Google.
Strike up a conversation when your customers visit your business in person or call on the phone.
If you have the opportunity to talk with customers (or potential customers) either in person or on the phone, make sure to ask them how your business is doing. Many of your customers will provide you with positive feedback, but some might provide you with invaluable information on ways you can improve your business.
Being aware of conversations that occur between your customers and the public is a great first step for ensuring you know what is being said about your business.
Don't live under the assumption that what you don't know can't hurt you!
In fact, the exact opposite is true. The more you know, the better equipped you will be to handle either positive or negative information.
Then do something about it!
Once you know what is being said about your business, it's essential that you participate in the conversation. Having social media accounts, and monitoring comments about your business in online review sites is not enough. Responding to questions and comments, or addressing the public's concerns about a product or service that your business sells is essential.
Engaging with your customers is incredibly important in developing positive relationships. It can help boost your business to the next level.
Humans are social creatures and don't want to feel ignored. Use the information you gather about your business to make your business better and more successful!